This is the Last Day for Our Escape Rooms and Floor is Lava Behavior Games sale at our Teacher Pay Teachers Webstore!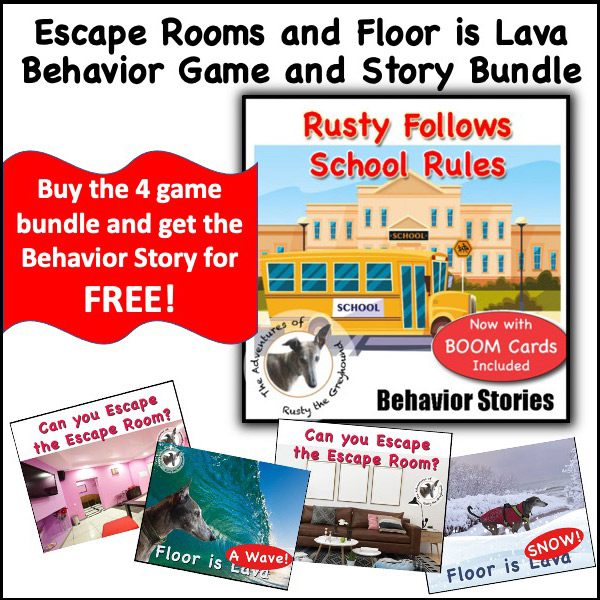 Click here to see all of our Behavior Games
What You Get in the Bundle!
To start with, you get the Behavior Story for FREE!
Help Rusty escape from the escape room Behavior games!
There are several clues for you to find in the room. When you find them click on the screen in that area to open the next question. Answer the questions to help Rusty escape the room. After every successfully answered question, you get a token. Collect all 4 to escape the room! The four questions are generally based on the behavior story but are different from the Boom Card questions.
Try the sample version here.
Click here to see all of our Behavior Games
The Floor is Lava style Behavior Games
You will get both versions of the Floor is Lava games. The Floor is Snow, and the Floor is a Wave. If your students get the question wrong, the snow gets deeper, or the wave gets bigger. If they get the question correct, the snow goes down, and so does the wave's size. Don't allow Rusty to get buried by the snow or the wave.
All four behavior games use the same four questions. You will have the choice to select which game you want to do with your students. This way, you can ask the four questions again but in a different style of game.
Click here to see all of our Behavior Games